If you wonder about the teeth whitening in Turkey, you have come to the right place. The teeth whitening prices in Turkey vary according to the teeth whitening procedure applied but all of the methods are proved to be very efficient. You should look at the before and after photos of teeth whitening in Turkey and decide which dental treatment you want for yourself.
People around the world now want to look more beautiful and have a better smile. For this reason, they come and have teeth whitening done in Turkey.
Turkey is one of the countries that do the most professional work in the field of dental treatment. The dental clinics and dentists in Turkey are especially experts in cosmetic dentistry and professional teeth whitening. If you are looking for a more astetic smile and also want to have fun times, you should get your teeth whitening in Turkey.
Why: The Need of Teeth Whitening Treatments
There can be many reasons for your teeth to contain stains, turn yellow and fall out. The most common reasons around people are the usage of beverages and foods with coloring agents. Tea, coffee, coke, prepackaged fruit juice, wine varieties… These can be cited as examples.
Smoking also plays an important role in tooth damage. With aging, the structure of the teeth changes, wears down, and the surface structure becomes rougher. All these changes lead to yellowing and damage to the tooth. In addition to all of that, the use of antibiotics or excessive fluoride used during the formation of teeth can cause discoloration of the teeth.
In addition to teeth whitening, teeth implants in Turkey and dental veneers in Turkey are also very suitable and affordable treatments.
How: Teeth Whitening Methods
There are many different methods of teeth whitening in Turkey. All methods are very well and very efficient but you should consult your dentist and ask for the best option for you. The most applied methods are single tooth whitening, home teeth whitening, laser teeth whitening and a combination of home and laser teeth whitening.
Single tooth whitening and home teeth whitening treatments are mostly performed under the control of the patient. Your dentist becomes your guide and the treatment is usually done in 2 or 3 weeks when you follow all the directions that your dentist give you. But if you don't measure the right amount of whitening gel that you use, it can give you major problems like damage to dental implants and leave side effects like gum disease or damaged gums.
As seen in the laser teeth whitening treatment, the best and the healthiest option is always a dentist controlled treatment. For the laser teeth whitening, you need to find a reliable dental clinic in Turkey such as Periodent Dental Clinic and make an appointment with your dentist for your treatment.
During the procedure, your dentist applies the whitening gel to your teeth using the UV light technology. The lazer teeth whitening treatment in Turkey usually takes an hour and requires higher concentration. It is the most preferred and most useful method among teeth whitening procedures applied all over the world. The dental specialist may decide to use a combination of home and laser teeth whitening treatments.
Beginning The Journey: Teeth Whitening Procedures And Whitening Process
Dental care is very important and teeth whitening process should be done by professionals. Clinics in Turkey offer you the most trained dentists to perform the best teeth whitening treatments. Also, teeth implants, veneers, crowns and new teeth treatment in Turkey are offered with many options suitable for you. Getting your teeth whitening in Turkey is alwas a good decision for you and your teeth.
The dental procedure may vary depending on the method used and the specialist. In our clinic, Periodent Dental Clinic, our experts perform your whitening treatment in a short time by using the best quality yet affordable materials for your new white teeth.
Periodent Dental Clinic has been providing dental health services and teeth whitening in Turkey to patients coming from abroad for many years. It takes a short time to get your teeth whitening done in Turkey. After your teeth whitening procedure in Turkey is done, the rest of your time is yours to see the sights and have fun in a magical and historical land. You can sit and relax in a beach, visit the wonders of nature or go on exciting adventures with your newly whitened teeth.
Affordable Progress: Teeth Whitening Prices in Turkey
You can find the best clinic offers and teeth whitening prices in Turkey. Teeth whitening in Turkey can be done in a shorter time and cheaper than in many countries of the world.
Teeth whitening prices in Turkey is more affordable and more efficient than the European countries. The price range is usually up to $100 to $600. But every person and every teeth set is unique so you should consult your dentist about which options and materials are more suitable for you. Every different method and material used changes the teeth whitening prices in Turkey.
Results: Teeth Whitening in Turkey With Before And After Photos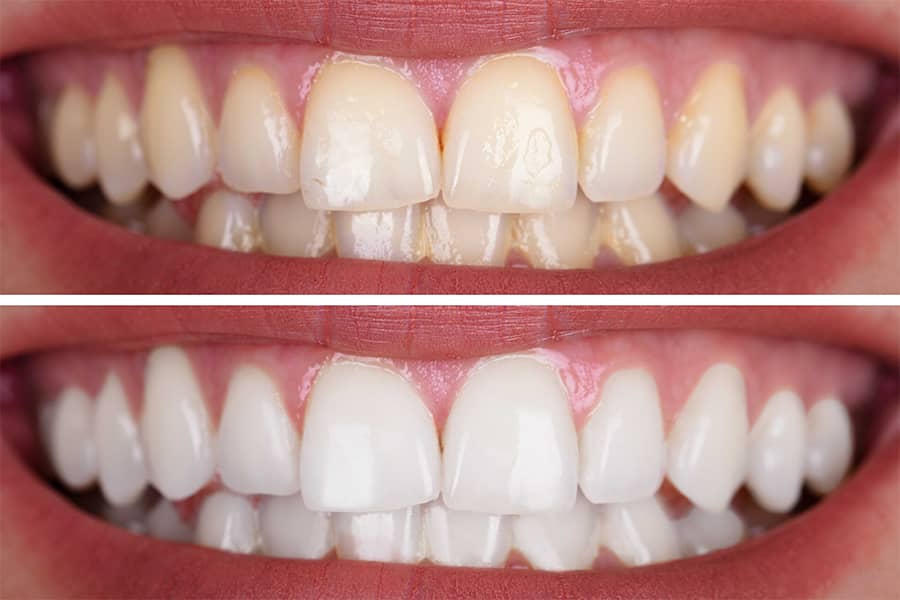 You can't put a price or time limit on beauty, but when you see before and after teeth whitening photos from Turkey, you can think of a value. Clinics in Turkey have more affordable prices, very short and painless process and the best results you can ever get.
So what are you waiting for? Contact Periodent Dental Clinic from Istanbul Turkey today and create your own teeth whitening before and after photos from Turkey. To treat yourself with a fun holiday and brand new white teeth, get your teeth whitening in Turkey.
FAQs about Teeth Whitening Turkey
Can you get your teeth whitened in Turkey?
Very effective teeth whitening is done in Turkey with a very short time period and at very affordable prices. Many foreigners from all over the world prefer Turkey's teeth whitening treatments as it is more economical and more effective than the treatments applied in treatment centers in the Europe, the United Kingdom and the United States of America.
How long does it take to see results from teeth whitening?
You can usually see the effects of teeth whitening in Turkey 24 hours after your procedure. It may take longer to see results from at-home teeth whitening treatments. Due to the lower concentration of whitening agents, it may take up to two to three weeks to achieve the results you are looking for. For the fastest and lasting results, the laser teeth whitening in Turkey is highly recommended by the best dental professionals.
How long does whitening your teeth last?
There are varying concentrations used in the lazer teeth whitening as well as different methods. The bleaching agents used in lazer treatments can contain hydrogen peroxide or carbamide peroxide. The effect of these chemicals can last six months to two years. Home teeth whitenings contain less effective and less intense chemicals so they usually last 4 to 6 months.
You should get your lazer teeth whitening in Turkey and have your shiny smile for almost a couple of years. Afterwards, plan a short holiday to Turkey and renew your teeth whitening in Turkey without sacrificing both your pleasure and your health.
How much does it cost to have teeth whitened in Turkey?
Although teeth whitening in Turkey usually costs between $100 and $600, it may vary depending on the method applied and the material used. But in any way, teeth whitening treatments in Turkey offer 5 to 7 times more economical prices than treatments in the European countries, the United Kingdom and the United States of America.
Is it cheaper to get your teeth done in Turkey?
Teeth whitening in Turkey is much cheaper than any dental treatment in Europe. For many years, lots of people living in Europe have been choosing good dental treatment centers in Turkey, especially the Periodent Dental Clinic, for dental treatments. If you have your teeth whitening procedure done in Turkey, you will gain both material and spiritual benefits. Therefore, do not forget to make your teeth whitening appointment as soon as possible.
Will my dentist tell me the do's and don'ts after my teeth whitening in Tukey?
As Periodent Dental Clinic, it is very important for us that our guests (we prefer to call our patients our guests) are happy, satisfied and feel safe. Your dentist will support you in all processes and will help you pass this process in the most comfortable and happy way with their help. It is very important to us to answer all your questions and ensure that you have the best dental health and the healthiest teeth whitening in Turkey.
What are the do's and don'ts after teeth whitening?
People who got their teeth whitening in Turkey should avoid colored beverages like coffee and tea, acidic beverages like coke, alcoholic beverages, sugary foods and foods with colorants like sauces of every kind. They should brush their teeth at least two times a day, floss their teeth every day and go to the their dentist regularly for dental check-ups.